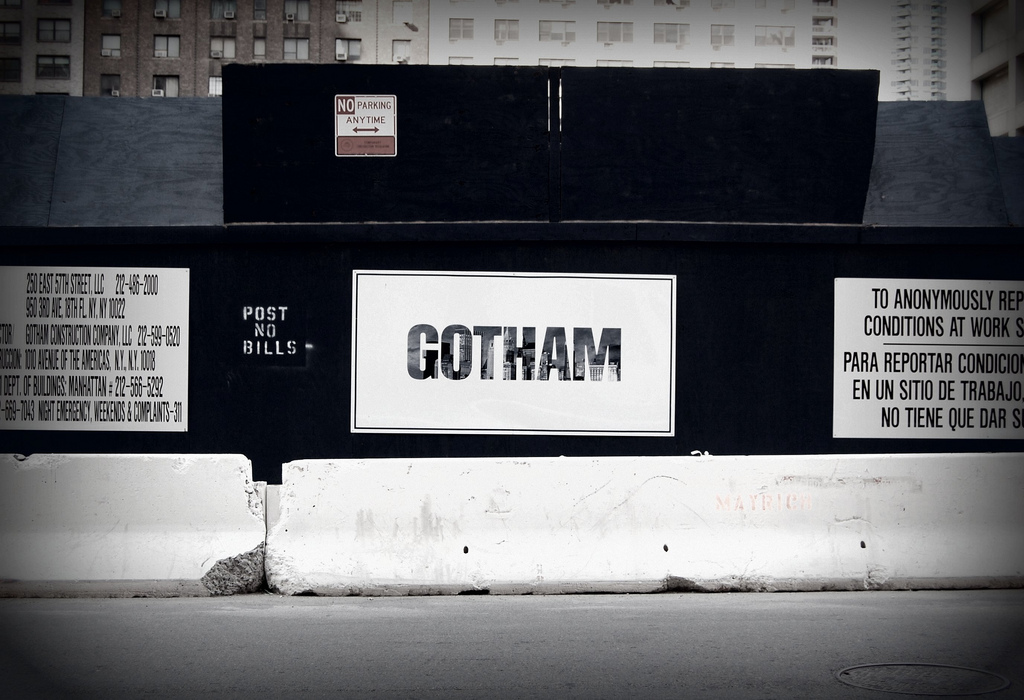 Note: this post uses a lighter tone as other Defiant Imagination posts and shouldn't be treated very seriously.
Watching the Batman trilogy can provide a few pleasant surprises. Yes, there are the good action scenes, the unexpected plot turns and the interesting references to Occupy Wall Street and the economic crisis. But it becomes even more interesting when you can find parallels with your own work. It has been noted before that Nolan's trilogy portrays Gotham City as a "failed state". This was validated in the Dark Night Rises when Joseph Gordon-Levitt's character, police officer John Blake, asks: "So you're going to leave it under the control of a warlord, like some failed state?"
That's when Batman became even cooler to me, because I've been exposed to the idea of failed states several times since I began researching Brazil's favelas and South America's pacification programs. And when Joseph Gordon-Levitt talks about my research, I feel it gives some sort of validation to all the unpaid hours I've been spending reading academic articles and conducting interviews.
Failed state is one of these cool terms that emerge once in a while out of academic circles and make their way to foreign policy jargon, before ending up, often misused, by the media. This one emerged it the 90′s in academic as an attempt to describe situations when countries have seen their government become essentially powerless. Typical examples of failed states are Somalia, Sudan, Haiti or Afghanistan. Each year, the U.S. think-tank Fund for Peace releases the Failed State Index, a list of countries classified according to their "failedness".
Several critics have pointed out the inefficiency of the concept. To begin with, nobody knows what a failed state is exactly. "There is no clear universal definition of a 'failed state,' states the Wikipedia definition. Like in medicine where certain diseases with unknown causes are diagnosed by their symptoms, failed states are determined as such when certain signs are spotted, such as (but not always) widespread corruption, paramilitary groups, a weak justice system, displacement of population… Sometimes it is said that the state has lost the "monopoly of violence" when other armed groups are in control of certain regions, which is quite ironic, since the phrase itself acknowledges the state's ability to exert violence, when in fact it should only be referring to defense and policing.
So, when the BBC ask if Nigeria is a failed state  or whether Somalia can really be called a failed state, when the New York Times writes Greece is on its way to become one, or an MSNBC guest says even the U.S. is on the same track while commenting on the Aurora shooting, well nobody really has any clue of what they're talking about. The fact is, the existing guidelines that point out to signs of failure can be used in a very subjective manner. Corruption exists everywhere (particularly where I live), justice systems in the wealthiest countries have many flaws, and the nature of democracy implies that the government's actions should be questioned at all times. There is no clear line between a functioning and a failed state.
John Blake, it turns out, was already slightly behind in his foreign policy lingo. The term "failed states" has been overshadowed by the trendier "fragile states," and even "fragile cities" in cases where problems are localized, and because studying cities is, you know, cool. So Rio de Janeiro is fragile and Medellín is fragile and Johannesburg and Kandahar as well, and it becomes very easy to make some generalizations and parallels and theories that apply to places that can be so different from each other. Then these theories make their way to think-tanks, foreign affairs departments, development banks, and financing gets approved on the basis of such theories. But that's just the way things are in the field of foreign policy, failure of state or not.
I should add that I'm not entirely against this concept, since some of the research I've read has been very helpful. However I take everything I read with a grain of salt, and give priority to on-the-ground observation, which is why when this post will be published I will be in Colombia to visit the comunas of Medellín.
Photo credits: Flickr user jpellgen