On giving
One of my last readings was Dambisa Moyo's provocative essay Dead Aid. While I don't feel qualified and knowledgeable enough to take a definitive position concerning the debate between international aid proponents and its detractors, I do feel that something has gone wrong in the relationship between developed and third-world countries.
The situation of dep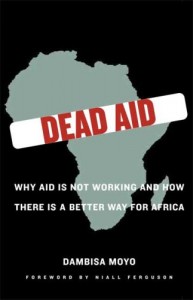 endence of third-world countries on foreign aid has been going on for far too long to remain healthy, and it has been leading to abuse in many cases (the example of the mosquito net, used several times by Moyo, is a good one. Mosquito nets manufactured by rich countries are then sent to poor ones out of good will, even though poor countries would gain more from manufacturing the nets themselves thanks to foreign investment.)
Reading Moyo's essay has brought me to think about altruism and the act of giving. One thing I've learned from my trips to developing countries is that I had much more to learn and receive from the local population than the opposite. The reasons that motivated my trips had to do with a feeling of collective guilt that we try to address through aid. I do not wish to be in that position ever again, since I've come to think that it does more harm than good. What I'd now like to concentrate on, as far as international cooperation is concerned, is to foster mutual understanding and learning.
As for giving, I believe that many issues still need to be taken care of around me, even if I live in one of the richest parts of the world. I've thereby come up with a list of innovative ways to make good use of your money. Rule n°1: know where your money is going.
As for me, I give a little bit each year to WBEZ Chicago Public Radio and WNYC New York Public Radio for my two favourite radio shows, This American Life and Radio Lab.