Meat is back, part 2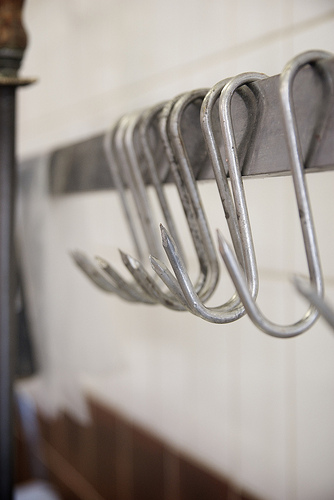 This is the second part of my two-part series on meat. This post is not intended to criticize vegetarianism or veganism, but rather to analyze a trend that has been developing in North America.
DIY butchering
Why limit yourself to the supermarket or the butcher shop to get your meat? A number of communities around the country have taken the CSA model (Community Supported Agriculture) to a new level, allowing its members to team up and buy meat directly from the farmers. In Berkeley, CA, the local Slow Food chapter has turned its meat CSA into a social networking platform where communication between neighbours is facilitated in order to better manage orders.
In Portland, food writer Camas Davis recently launched the Portland Meat Collective, modelled on traditional CSAs. PMC also seeks to empower its members by organizing butchering courses. This summer, classes include Basic Pig Butchery, Sausage Making, Real Coq au Vin and Charcuterie. Davis describes the classes as a "community experience," some sort of sacred ritual through which participants get to learn how to cut and prepare their meat for the ultimate act of eating. And I don't mean that to be sarcastic. PMC students truly seem to have fun and rediscover the importance of caring for their own food.
San Francisco also has its meat workshops. Every third Sunday of the month, Holly Park Market's Avedano's teaches an intensive butchery class where students spend an afternoon cutting a lamb and a pig carcass and perfect their knife technique. The shop also offers a curing class and a carving class (for chickens.)
Rediscovering slaughtering
For some, eating local meat and even butchering it themselves is not enough. A bunch of gritty carnivores take responsibility for their own meat by slaughtering the animals themselves and bringing each piece back home. In this MIX magazine article, Camas Davis profiles a Portland resident who slaughters his own pork. Over the time, Levi Cole has developed his own technique, which involves letting the pig get used to him and feeding it beer to decrease stress.
Watch this multimedia story about Cole:
Locavore learns to slaughter and butcher his own pig
In this article published on The Ethicurean, Jake Lane, a student at the University of Illinois, reflects on what pushed him to take a slaughtering class and the lessons he learned from it.
"By no means am I interested in giving up meat, but I can't countenance inflicting even more pain on comparatively innocent creatures through raising them in cruel, unnatural conditions if their ultimate fate is to suffer, no matter how briefly, to satisfy my appetite," he writes.
"The brutality and the grossness are important, but they're not the whole story. Books and recordings help us to withhold our empathy for the creatures that are killed — we can lie a little, make it less real. But if more people really considered what goes into raising and killing an animal for food, perhaps they'd think harder about what they're willing to put on their plate."
The most high-profile slaughterer is also one of the most outspoken advocates of urban farming. Novella Carpenter grows vegetables and raises animals in the backyard of her one-bedroom apartment in Oakland, CA. She almost only eats meat that she kills herself: turkey, rabbits, pigs, etc. Carpenter was a vegetarian for several years, and now speaks of meat-eating with an objective, very detached perspective.
"It's the logical conclusion of six months of life, or so, for an animal," she explained in an interview published in Meatpaper. "The problem that people have is that they aren't there every day. They don't see the turkey every day. Every single day I saw this turkey. I fed him; I cleaned up after him; I picked him up and held him; I gave him water. You watch them grow and then it's time. They aren't children. They aren't babies that you're going to, like, educate or whatever. They're farm animals, and that's what they're here for. This is what they do. And so you're harvesting them like an apple or anything else you've been cultivating. That's what humans do, and that's how we are able to eat.
Like all the other self-taught slaughterers I've been reading about, Carpenter doesn't enjoy the act of killing and doesn't look forward to it, but does it because she sees it as the only way to eat meat responsibly. She follows her own routine, her own ritual, to remind herself that slaughtering isn't a normal part of life. But whether eating meat is a responsible act is another debate that I won't discuss here…
Want to keep reading about meat? Meatpaper is a smart, young magazine dedicated to meat, its culture, politics and poetry.
Read the first part of this series about meat: Meat is back, Part 1