On endurance (and protesting)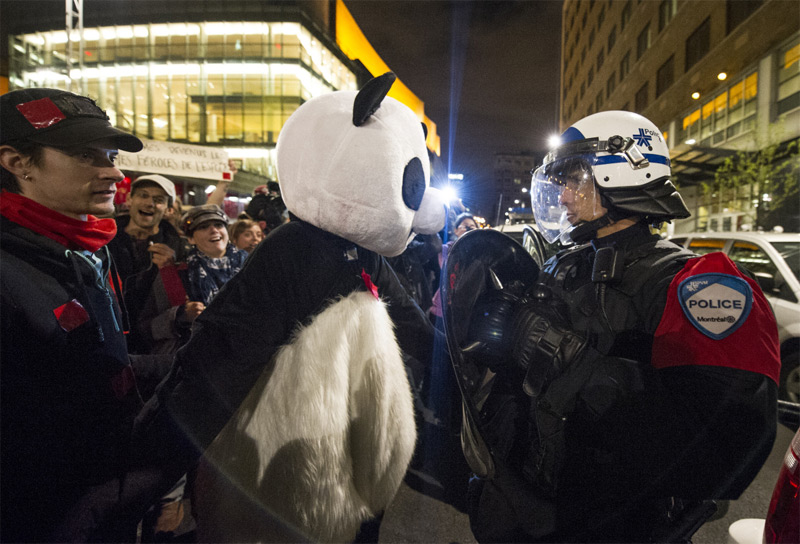 Anarchopanda, the mascot of the Quebec protest movement. Photo AFP
Last Tuesday marked the 100th day of the student strike. Close to 400,000 people, maybe more, marched pacifically in the streets of Montreal. Of course there were not only students but all sorts of citizens who have made the protest movement their own after the government issued its special law, restricting the right to protest. This movement is not about tuition hikes anymore. In fact, it has never been, since from the start it was a matter of principles – the right to accessible education. But students are now joined by citizens fighting for civil rights and against police brutality, environmentalists angry at the government's massive plans to sell out the land to foreign mining companies (Quebec's Plan Nord), unions, and more. It's also one of the first obvious signs of a generation clash fueled by boomers hitting retirement age and youth suffering from a global economic slowdown.
Yesterday was also a symbolic turn – it was the 30th consecutive evening march. After 30 days there are no more organizers, no more plan, just a religiously attended 8:30pm meeting followed by a random march through the streets. The most symbolic number, however, is not 30, but 487 – the number of people who were circled by the police, then arrested even if there had been no incidents. Every evening the number of arrests grows, and as the number grows protesters remain peaceful and keep on showing up at 8:30pm, day after day.
A couple of days ago people started banging kitchen pots at 8pm, out in the streets or on their balcony. I think a lot of people wanted to take part in the protests even if they couldn't join the evening march, because some of us have to work or have kids or are scared of getting arrested. So everyday now we bang pots at 8pm, and in some instances neighbours end up gathering in the streets and marching together, sometimes until they end up joining the main evening march (of the 487 arrests yesterday there was a number of pot bangers.)
Every night if I'm not joining the protest I keep on checking the #manifencours Twitter hashtag that people use to spread live updates about the march, and I tune in CUTV's live broadcast. Every night I'm a little anxious that this time no one will show up or that the movement will slowly die, but I'm proved wrong. For weeks I've been expecting protesters to get fed up and turn violent and riot – this would not be right but somewhat logical. But I'm proved wrong, night after night. What's incredible is that after 100 days of strike and 30 days of daily protests, this non-violent movement has gained an incredible energy, a strength and popularity that could not have been achieved with violence. It's like a marathon runner who feels the pain disappear and enters a mental state of bliss after a couple of hours. The endurance of non-violent protesters leads to something much more powerful than any of us would have imagined.