Quebec student strike: fighting for principles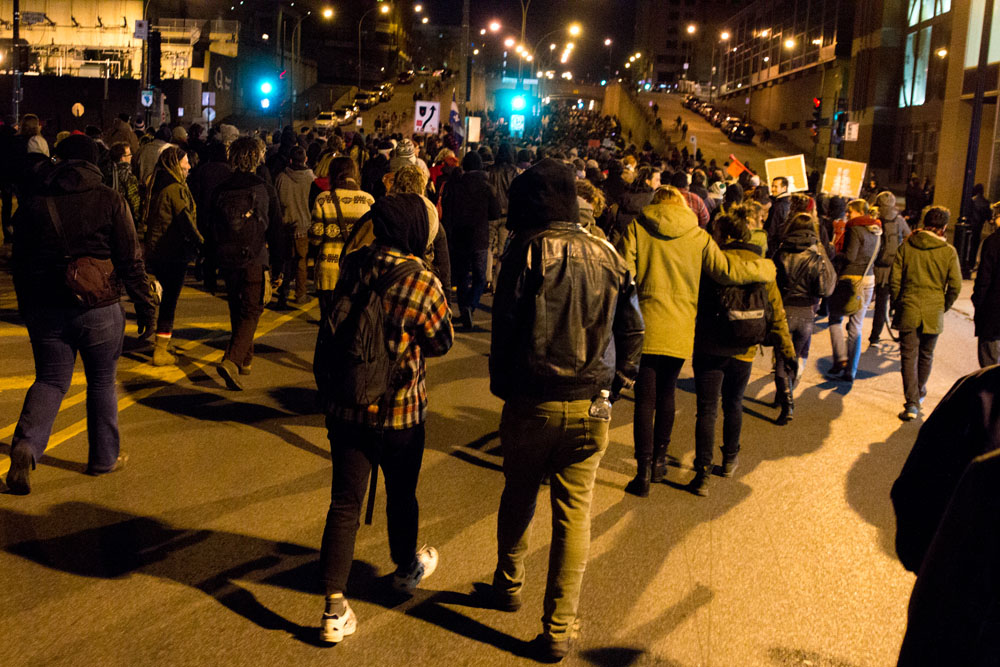 Students march during a night protest. Photo credits: Flavie Halais
It's quite remarkable that the Quebec student strike still continues to go unnoticed by international media, despite being the longest student strike in the history of Quebec (and possibly Canada). Protests are taking place everyday, the largest ones gathering up to 300,000 demonstrators.
The movement started last February, after the provincial government announced it would increase tuition fees by 75% over five years. Quebec's university tuition fees are the lowest in North America, thanks to a unique history of student actions combined with a tradition of public subsidy of higher education. Students are protesting not so much about the raise itself (tuition fees after the raise would still be the country's lowest, at $3793 a year) than the logic behind the government's decision. They point at examples of mismanagement of universities and criticize the fact that higher education has become a commercial venture that is driven by profitability.
After fourteen weeks or so of striking, Quebeckers and Montrealers especially (the city is home to about 150,000 students) are getting tired. Protests have sometimes been violent, as a fringe of demonstrators favour aggressive tactics and last week, four people were charged with committing a terrorism-related prank after throwing smoke bomb in the subway, resulting in the entire system being paralyzed. Police brutality has also been a big issue, with unjustified use of pepper-spray and plastic bullets, beatings, and mass arrests. A protest in Victoriaville turned sour, prompting Amnesty International to criticize the police's handling of demonstrations.
The Quebec government is being criticized for taking too long to take the movement seriously and engage into talks with student unions. A first deal has been rejected after the government made contradictory statements in the press. Now universities and colleges with departments on strike (not everyone is striking) have to face the possibility of canceling the semester altogether.
Anger has been mounting between the pro and anti-strike. Strikers have been described as self-absorbed and spoiled by some who, in my opinion, refuse to see what the movement is all about. Indeed, the strike has generated some fascinating conversation in the media about the role of higher education and the problems faced by students who have to deal with a much higher cost of living than their parents did. For people in my generation, the general feeling is that our parents went to school for cheap, got to buy cars and houses when they were still affordable, were able to find work without too much trouble, and did  a wonderful job at f***ing up everything for us. And now they're calling us lazy and spoiled.
One of the strikers's arguments is that one only has to look south of the border to see that they're just fighting to avoid this kind of future for Quebec. The New York Times's recent exposé on student debt compares the situation to another mortgage bubble about to burst. Quebec tuition fees might be the lowest in North America, it's already impossible to complete a bachelor's degree without working full time during the summer, part-time during fall and winter semesters, and taking on some debt, if you don't receive financial support from your parents. These are not suitable conditions.
I've taken part in some of the demonstrations and the atmosphere is generally lively and festive. It's a beautiful, altruistic and necessary movement that I hope will be successful.
For an efficient summary of the movement, read this Guardian article.