CBC News launches microblog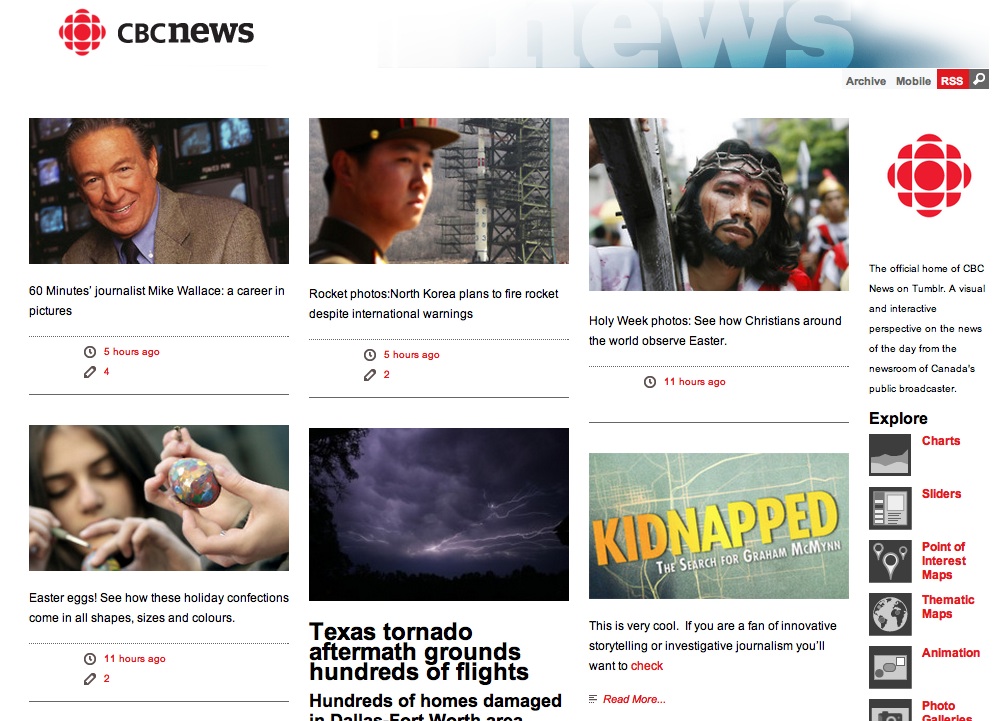 CBC news has launched a Tumblr blog last week to showcase their multimedia and interactive content. Picks include charts, maps, galleries and other types of content, like this interactive "game" in which you become the main investigator in a kidnapping case that actually happened in Vancouver a few years back.
IDEO launches HDC Connect
IDEO, the international design consultancy firm famous for its innovative design thinking services, has launched a new platform called HDC Connect in partnership with the Bill and Melinda Gates Foundation. The platform is a place for people working on human centered-design projects around the world to connect and share stories and experiences.
IDEO is responsible for creating the Human-Centered Design toolkit, a handbook detailing the process of creating and implementing solutions to specific problems in low-income communities. The handbook is downloadable for free.
Map Your World
The highlight of the TEDxChange conference for me last Thursday was the short video about "The Daredevils", a group of children living in a Kolkata slum who have been mapping their community. The kids have been collecting specific data about health issues, such as which families got their kids vaccinated against Polio. They use a cell phone to mark which houses have gone or not through the vaccination process so that these families can be directly targeted by vaccination campaigns. By doing so, they've brought the vaccination rate from 40% to 80%.
It seems the video that was shown is not yet available on the net, but I found that the Daredevils have inspired another project called Map Your World, which provides similar cell phone technologies and mapping utilities to kids around the world. They were also the subject of a documentary film called The Revolutionary Optimists.
Watch the first video that was shown at TEDxChange:
Oil-powered thinking
Yet another great read from Design Observer: an article by John Thackara in which he reflects on the idea of risk and the place it has taken in our society. From banking to environmental policies, we have given up on designing sustainable systems and are now relying on transferring the risks – and damages – to third parties. This is how oil companies spend fortunes on damage-control PR services instead of limiting risks in the first place. Thackara also gives the example of Germany and its renewable energy policy, which transfers the environmental costs to other countries. Add to that the fact that our minds are not capable of thinking as rationally as we think, and you get a recipe for disaster.