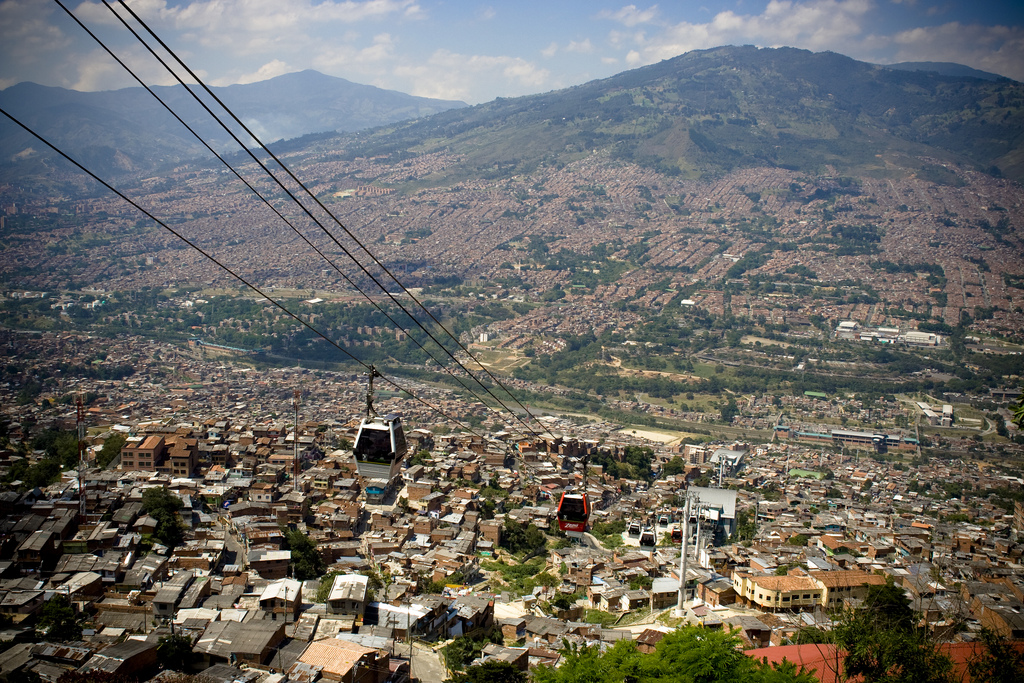 Medellín's cable car system. Credits: Flickr user Marcelo Druck
When you see three positive articles about Colombia in one week, it's a sign. And the fact that two of them were published in magazines that cater to businesspeople shows it's time for investors to look in the direction of this South American country.
Medellín seems to be the city du jour with much publicity about its metrocable and ambitious architecture projects. Colombia's second city, with 3.5 million inhabitants, seems to be rising from its ashes thanks in part to an aggressive security program meant to kick the drug gangs out. This New York Times article has fallen into the "urban planning will save us all" rhetoric (and you know what I think of it.)
What sets Medellín apart is the particular strength of its culture of urbanism, which acts now almost like a civic calling card. The city's new mayor, Aníbal Gaviria, spent an hour describing to me his dreams for burying a congested highway that runs through the middle of town, building an electric tram along the hillsides to stem the sprawl of the slums, adding a green belt of public buildings along the tram, rehabilitating the Medellín River and densifying the city center — smart, public-spirited, improvements. It's as if, in this country whose relatively robust economy has underwritten many forward-thinking projects, every mayor here has to have enormous architectural and infrastructural plans, or risk coming across as small-minded or an outsider.
En Route's June Edition concentrates on specific projects that are slowly building the city's reputation:  the Parque de los Deseos and Parque de los Pies Descalzos urban plazas, the Orquideorama at the Botanical Garden, the Parque Explora science centre, the Unidad Deportiva Atanasio Girardot sports complex, and the impressive Parque Biblioteca España library.
Felipe Mesa, the principal of Plan:b Arquitectos, had a hand in both the Orquideorama and the sports complex. I walk to his office in leafy El Poblado, an upscale neighbourhood in the city's south end that's also home to my hotel and – as I learn when trying to sleep in one morning – Guacamaya parrots and myriad other birds making a ruckus at sunrise. "Up to about five years ago, nobody came to Medellín. No tourists, no academics and no foreign tradespeople, so we had no choice but to learn how to do everything ourselves," he says, explaining why the city now has so many high-calibre designers.
The title of this Monocle article (subscribers only) leaves no place to ambiguity. "Born Again" looks at the evolving economy of Colombia, noting that "over the last eight years, foreign direct investment has risen almost tenfold to €10bn." The country's steady economic growth and stable political climate will certainly make that number rise even more in the future. Colombia has also been putting a heavy emphasis on foreign relations and diplomacy, sending a clear message that it intends to become a regional power.
Few mentions are made in these reports about the FARC problem… The guerilla seems to have lost enough power to have trade partners and investors not worry anymore about having to conduct risky business.
June 28 update: This Pacific Standard article will help you understand the influence of architecture, planning and security policy on Medellín over the past 10 years or so.
Also, I'll be going to Bogotá in August to report on this topic. Any other story ideas are more than welcome.